We are living in a time where vast amounts of data is being generated during every passing minute, and organizations have to determine the best methods of evaluating and processing data to meet the rising demands 24/7, 365 days of the year.
While solid state drives (SSDs) and other types of flash storage devices are becoming preferred options for their capacity and performance, they are not all the same. Making a decision based only on surface criteria may not be the best way, particularly in industrial applications where data availability, retention, and integrity to undertaking essential tasks. So how are you supposed to pick the best SSDs?
How to Choose The Best SSDs
As a growing number of SSDs are being used, industries are turning to consumer-grade SSDs to attain reduced total cost of ownership (TCO). If you consider the specifications, it may seem that consumer and industrial SSDs are the same. But that's not the case.
Best SSDs for industrial applications are found in high-performance applications where data reliability and integrity are of utmost importance like:
In-vehicle computing
Medical solutions
Machine automation
Military applications
Avionics and aerospace
Server farms
And data centers
On the other hand, consumer SSDs are usually employed for office use or in personal gadgets, like gaming consoles, cameras, mobile devices, laptops, and desktop PCs. Buying decisions are driven by personal preferences or needs, and technical support is in short supply.
Industrial grade SSDs require less power, offer better performance, and work in extremely rough environmental conditions – unlike the hard disk drives (HDDs) they are now replacing. When choosing an SSD, keep in mind that there are more factors to think about than the capacity and physical size. Power specifications, vibration, and comparable shock can vary widely between SSDs.
Here are some of the best SSDs available today:
Consumer SATA SSD
These are built to be used in consumer products like personal notebooks and desktop computers. They don't meet the requirements needed for industrial applications. These SSDs are designed to balance cost and performance demands, making sure the products in which they are embedded can be priced higher.
While they feature reliable performance in consumer products and reduced memory costs with MLC Flash, they usually shouldn't be used in applications that require wide temperature fluctuations or high write cycles.
Industrial SATA SSD
These are the best options for industrial applications like healthcare, embedded computing, and transportation. Industrial grade storage solutions use SLC NAND Flash which provides the maximum possible data protection even in the harshest conditions. If you are looking for best SSDs that can work in situations requiring high-speed read and write capabilities and can run at 100% capacity 24x7x365, industrial SSDs are the perfect solution.
Enterprise And Commercial SATA SSD
Enterprise and commercial SSDs offer better performance capacity compared to consumer SSDs, and they are used in servers in data centers. The majority of these SSDs are equipped with MLC NAND Flash or eMLC. For applications that have to work in extreme temperatures, MLC and eMLC are not typically enough. Using this type of solid state drive in temperatures ranging from -45 degrees C and +90 degrees C can result in data corruption.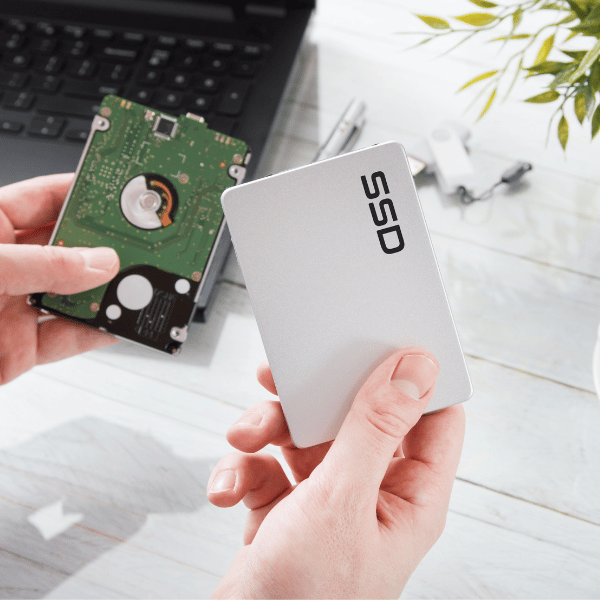 Know More About Best SSDs For Your Specific Application
Let the team at Accelerated Memory Production Inc. help you in choosing the best industrial SSD for your needs. If you want to learn more about SSD options and their technical specifications, call us at 714-460-9800 or complete this online form.