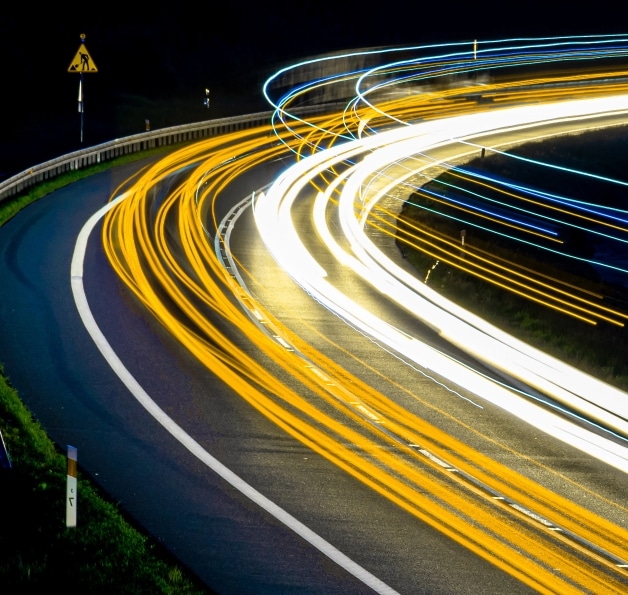 Transportation
As the architectural framework for energy-efficient smart cars, self-driving technology, and the Internet of Vehicles is gradually advancing, the automotive industry is expected to see even more rapid growth in the coming years.
Data storage and flash memory solutions in transportation applications call for a ruggedized design so as to withstand extreme environments. From Advanced Driver Assistance Systems (ADAS), In-Vehicle Infotainment (IVI), and navigation systems in vehicles to intelligent transportation and surveillance systems, SSD storage and memory solutions have to provide reliable performance when it comes to file transfers and read/write speed.
Built to Last Anywhere in the World
More than perhaps any other industry, the transportation industry is tasked with developing systems and vehicles that can be used in extreme environments. From scorching desert landscapes to bitterly cold conditions, this technology has to resist extremes in terms of vibration, humidity, temperature, and dust. And natural elements are not the extent of it; pollution is rampant in many parts of the world.
Thankfully, our engineers at Accelerated Memory Production, Inc. are considered pioneers in creating customized solutions to store data in even the most challenging conditions. Our solid-state drive, HDD storage, DRAM modules, and other products feature vibration/shock resistance, less power consumption, and wide temperature capabilities, making them extremely reliable.
Our DRAM and SSD technology solutions are also compliant with the US Military standard MIL-STD-810G. From freight trains to ocean vessels to cargo planes, our storage space products offer reliable functionality and tracking systems for real-time monitoring, system stability, and synchronized computing. If you're looking for high-quality memory products for onboard fleet monitoring, railway security, aviation operation, or ship navigation, our engineers are here to help.
Smart Solutions for Modern Data Problems
Our industrial-grade solid-state drives, SD cards, and DRAM modules undergo stringent testing to ensure that you get features you can rely on, such as conformal coating and underfill. We also offer 3D NAND SSD, and PCIe NVMe drives optimized for consistent performance in continuous workloads and duty cycles.
Other differentiated features include optimized mechanical components, industrial temperature, burn-in, and data integrity. Simply put, our SATA-embedded reliability SSD solutions are designed for automotive applications requiring dependable internal storage with space constraints.
Our industrial SD and microSD memory cards are also designed to meet all your solid-state storage needs. Thanks to onboard error detection and rectification algorithms and dynamic and static wear-leveling techniques, Accelerated Memory Production, Inc.'s memory cards ensure long battery life and product lifespan.
Benefits of SSD Solutions – Designed & Manufactured by Accelerated Memory Production, Inc.
The personal vehicle industry is currently undergoing a significant transformation in terms of technological features and functions. Diagnostic, mechanical, and onboard operating system requires a solid computing system for storing, integrating, and processing all the data being utilized.
The onboard systems in hybrid technology and gasoline-driven vehicles still need to handle the same exposures as vehicles of the past – exposure to snow, rain, temperature changes, oil, and other chemicals. Today's sophisticated onboard systems must be equipped to access and process data while dealing with these external factors.
As electric vehicles are rising in popularity, onboard computing and electronic systems will play an even bigger role in vehicle operation. The automobile OEMs are also striving to minimize power consumption. Our engineers are dedicated to adapting to these manufacturing advances in line with these trends.
Our DRAM modules support ECC error discovery and correction as well as extra ground pins and power for higher data integrity in varying temperatures. One of the greatest advantages of SSD solutions provided by us includes sustained read/write cycle performance for space constrained applications. Our SSDs and hard drive products can also be customized to include thermal sensors to prevent system overheating.
Choose Us to Stay Ahead of the Competition
If you are a manufacturer in the transportation industry, you have to think about the punishing and varied environments where your products will be used. At Accelerated Memory Production, Inc., it's our job to help you stay ahead of your competitors by focusing on our memory solutions' reliability, durability, longevity, and stability – primary drive, hard disk drives, solid state drives, SD cards, DRAM modules, and more.
If you need help with SSD optimization or monitoring with our value-added features, or you're unsure which memory solution will best serve your needs, call us at +1 714-460-9800 or send us a message.
Features
Waterproof / Dustproof
ESD
Conformal
Coating
Wide
Temperature
Shock Resistance
30U Gold Plating
Power Protector
Smart