The SD Association has been at the forefront of the evolution of card technology for more than 20 years, and the new SD Express standard is no exception. It's a significant step forward that will enable us to keep up with the demands of today's evolving technology.
With NVMe and PCIe, non-volatile memory interfaces have replaced ATA and SCSI standards. They are faster, more efficient, and allow data to be stored in solid-state drives (SSDs) instead of spinning hard disks.
PCI Express has developed into one of the most popular interfaces in the world. It is used for many use cases, including PCs, mobile computing, phones, gaming, automotive, and more.
NVMe protocol is the fastest and most efficient to date. It's the set of rules for accessing physical locations in a storage device via the PCI Express interface.
As a result of combining two form factors (SD & microSD) and globally proven standards (PCIe & NVMe), SD Association has created the revolutionary SD Express and microSD Express specifications.
Combining these technologies allows the creation of devices that can store and access large amounts of data quickly and reliably.
What is SD Express?
SD Express is a generational upgrade from the SD Association, which is an evolution of the existing standard.
PCIe Express and NVMe standards are combined to create an SD Express specification.
This allows you to take advantage of the benefits of both form factors: high performance and reliability of SSDs and small size of microSD cards.
SD Express delivers a unique user experience for multiprocessing applications. In addition to transferring a lot of data quickly, SD Express allows users to process it in real time.
Superior Speed
The new SD Express cards are expected to deliver data transfer rates of almost 4GB/s.
SD Express provides up to 4x faster speeds by utilizing the PCIe 4.0 specification (SD 8.0) and NVMe application protocol.
There is currently no support for PCIe 4.0 in microSD Express, while it allows up to 985MB/s (SD 7.0).
SD Express will be ideal for today's demanding high-performance content applications, which includes:
Data-intensive wireless communication
Gaming with 3D high-resolution graphics
Multi-channel video capture
Autonomous vehicles and cars with multi-sensor data collection and processing
New evolving imaging market (360° Camera, VR, AR, etc.)
Multi-channel IoT devices
Video speed class (Higher resolution 4K, 8K videos)
The SD Express card is designed to provide higher performance capabilities than previous generations. This can benefit many emerging markets, from consumer electronics to industrial applications.
UHS-I, UHS-II, UHS-III, and SD Express host devices will support any high-speed card. To attain faster performance levels, it is necessary to match the card with the host.
For example, UHS-I memory cards work best with devices supporting UHS-I and UHS-II cards perform best with UHS-II devices. The same goes for SD Express cards working best when paired with SD Express devices.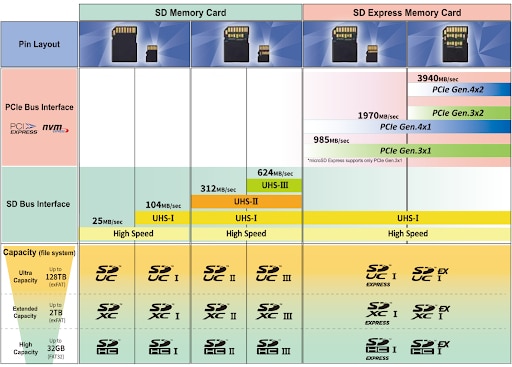 SD Express cards are capable of maximum speeds of:
50 MB/s in a device that supports standard SD
104 MB/s in a device that supports UHS-I
985 MB/s in a device that supports SD Express
Enhanced Storage Capacity
With the introduction of SD Express, users will be able to store more content on their devices. The new format allows for capacities up to 128TB.
SD Express has taken a step towards becoming the preferred storage medium for all types of devices and other consumer electronics. It's an evolutionary step forward for SD cards.
In addition, SD Express can also be used in many industrial sectors like aerospace, defense, oil and gas, power generation, transportation, healthcare, manufacturing, and others.
Easy Compatibility
The SD Express specifications allow for backward compatibility with SD devices. This means that all current SD host products can continue to work with SD Express memory cards.
SD Express uses the exact physical dimensions as its predecessor. It fits perfectly into existing slots, making it easy to integrate into your device.
They're compatible with all current SDXC-capable digital cameras, camcorders, smartphones, tablets, PCs, and other devices.
You can use them with any slot adapter or reader that supports SDXC, SDHC and SDUC cards.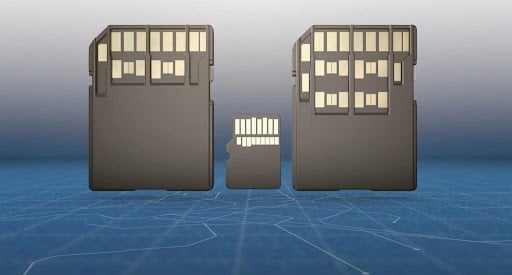 The integration of NVMe and PCIe enables SD Express to support advanced flash memory technologies and various market applications.
As a result of adding PCIe to the SD (UHS-I) interface, SD Express cards can be used interchangeably with both new SD Express-capable hosts and billions of older SD hosts in use today.
Despite being backwards compatible, SD cards may not reach their full performance potential due to varying hosts, but consumers can still access all content.
This means SD Express can benefit from the ongoing research, development, and long-term plans of these two standards, which will inspire consumers of SD and microSD memory cards.
Supports All Major Operating Systems
PCIe and NVMe specifications are supported by Windows, Android, iOS, Mac OS X, Linux, and other platforms. Meaning SD Express can be used on most platforms and devices.
The SD Express memory cards have readily available drivers, preventing the need to create additional drivers, except for the low-level driver for switching between the two interfaces, SD and PCIe.
The SD Express leverages the proven technology and features of the SD card specification.
Reduces Cost to Businesses
SD Express supports both the UHS-I and PCIe/NVMe interfaces.
Depending on the configuration, SD Express cards can be configured either to interface directly with the legacy SD interface or with the PCIe/NVMe interface.
When accessed over PCIe, this card appears as a Standard NVMe device. SDA utilizes existing test equipment and reduces product development costs by leveraging successful protocols already in the market.
Companies save money and improve their bottom line by using existing building blocks and existing designs.
In addition, since SD Express is supported by major operating systems and PCIe/NVMe drivers are popular, SD Express is easy to adopt in the market.
The Differential Interface
Similar to eMMC, legacy SD UHS-I interfaces use single-ended signal lines.
Like SD UHS-II and UFS, PCIe Gen3 uses serial differential communication.
It has several benefits:
EMI and crosstalk resistance
Elimination of outgoing EMI and crosstalk
Reduced signal-to-noise ratio (SNR)
Simple detection of high and low states
The 128b/130b Encoding Advantage
PCIe Gen 3 has a 128b/130b encoding and decoding scheme different from SATA, UFS, and earlier PCIe generations that use 8b/10b scheme.
130-bit blocks consist of a sync header of 2 bits and a data payload of 128 bits.
In 8b/10b encoding, for every 10 bits encoded, 2 bits are used for synchronization, and 8 are used as a payload. In PCIe Gen 3, the overhead is much smaller than in the other protocols.
Therefore, PCIe will be significantly more efficient in transferring valid data for the same block of bits. This allows SD Express to achieve higher transfer speeds without compromising on reliability.
When transferring data, only fewer bits are sent to the communication line. These bits have a direct impact on the total power consumed. The lower overhead also results in less power consumption.
Express Interface Design
A great deal of consideration has gone into the design of SD Express cards. From superior performance to backward compatibility with previous versions, all aspects of the SD Express cards are designed to provide excellent operation, ease of use, and a long lifespan.
The two rows of pins on the card are like those seen on a UHS-II card and allow easy plugging into devices that support it.
Pins in the first row carry UHS-I signals and PCIe/NVMe signals. Only this row can be used for UHS-I mode.
PCIe/NVMe signals in a second row are required to reach the new highest speeds.
A second row also contains unused space for adding two pins on future cards.
The purpose of these pins is to enable 1.2V signals (compared to 1.8V and 3.3V used on existing cards), resulting in lower power consumption.
Low Power Consumption
Both SD Express cards and traditional microSD cards use the same power.
Still, the SD Express cards provide significantly higher speed data transfer rates by consuming less energy.
The microSD Express cards with PCIe 3.1 have new low-power sub-states L1.0, L1.1, and L1.2. They are added above the previous low-power sub-states of L0 to L3 in PCIe 3.0.
The system can optimize low power against recovery times for the best overall system performance with the new sub-states.
SD interfaces, including UHS-I, consist of six single-ended signals at either 3.3v or 1.8v logic levels. The 1.8v signal provides lower power consumption than the 3.3v.
As a result of the differential interfaces in SD UHS-II/III and PCIe, the PHY consumes a significantly reduced amount of power during data transfer.
Since the new high-speed interface can transmit the same amount of data in less time and remain in standby mode for more extended periods, it will be a much more energy-efficient option than the legacy SD UHS-I interface.
AC Coupling over DC Coupling
There are two standard methods of coupling interfaces: AC and DC.
A significant advantage of the PCIe physical interface is the AC coupling, which removes common-mode errors, provides the level shifting, and protects against input voltage faults.
DC coupling uses capacitors at the interface, isolating the receiver and transmitter. Noise is less sensitive with this type of isolation and any issues with ground loops are avoided.
As a result, the PCIe interface offers advantages mostly in connecting between different units through cables and connectors, such as memory cards.
A wired SD card socket is another advantage of PCIe. These solutions are found in automotive, industrial, and IoT applications. A differential signal is always AC-coupled in an automotive application, protecting it from overvoltage. The fundamental design of this configuration is to inhibit shorts in the car's battery.
Both capacitors in SD Express are located on the host side. The capacitors' characteristics can be defined accordingly, such as maximum voltage, by the application manufacturers.
DC coupling, however, has the disadvantage that it offers no way of protecting against an open circuit. Both the receiver and transmitter will be disconnected if the connection breaks.
On the other hand, AC coupling does not use additional components like resistors or capacitors. It simply connects one side of the transmission line to the ground. This means that if the connection fails, only one side of the transmission lines gets disconnected, leaving the other side intact.
What Does It Mean to General Consumers?
The SD standard is the most popular memory card standard with its easy-to-use format and reliable interoperability.
SD interfaces are found in many devices today, including mobile phones, tablets, digital video cameras, automotive systems, and IoT devices.
If you require removable cards that utilize the PCIe and NVMe interface, then microSD Express or SD Express is ideal.
With this SD form factor, you can achieve SSD-level performance and are given a better user experience in multiprocessing environments.
SD Express adopting NVMe and PCIe means embracing the protocols of the future. The protocols will benefit users for decades to come, as they will serve the memory-interfacing ecosystem well.
Users of the SD Express can also play video games at blazing speeds, thanks to support for ever-evolving gaming systems.
SD cards can now be used for various purposes with new cards that keep backward compatibility with existing SD hosts.
Utilizing the microSD form factor, the microSD Express extends the possibilities for high-speed applications.
The new SD specification offers read and write speeds as high as 4 GB/s by doubling the PCIe lanes, making removable memory card solutions both highly responsive and cost-effective in the long run.
This makes the SD Express card even more suitable for demanding applications where a fast response time is critical.
Accelerated Memory SD Express
We specialize in standard and advanced memory storage solutions. The SD Express is expected to be ready for mass production soon.
For many military and space applications, reliability is paramount. Our goal is to provide lifetime support on our new SD Express cards. Furthermore, we perform full spectrum SD Express compliance testing.
We have been working hard to ensure that our customers receive the best possible service when purchasing our SD Express cards. We aim to provide the highest quality products available on the market today.If you want to know more information about our SD Express, please give us a call at 714-460-9800 or reach out to us online.