9 Industries That Need Micro SD Cards
Since their invention in 1980, memory cards or Secure Digital (SD) have remained among the most inexpensive, reliable, and successful storage solutions available in the world. Today, they are commonly used to store text, audio, videos, and pictures in a variety of portable devices like smartphones and cameras.
Since consumer micro SD cards cost less and have become a huge part of several everyday applications, they are also frequently used for industrial purposes that they were originally not built for. Industrial grade micro SD cards are designed to deliver reliability, longevity, endurance, and wide temperature range for numerous industrial applications, such as servers, gateways, network equipment, action cameras, surveillance, and drones.
Major Industries That Currently Use Micro SD Cards
Consumer micro SD cards are designed for non-business, family, and personal use. Industrial micro SD cards, on the other hand, are intended for the manufacturing, design, delivery, packaging, and distribution of services and goods. This is why industrial-grade micro SD cards require high-quality, reliable, and tough components that can perform consistently over long periods of time to provide minimal downtime, maximum availability, and better ROI.
Industrial applications of micro SD cards include: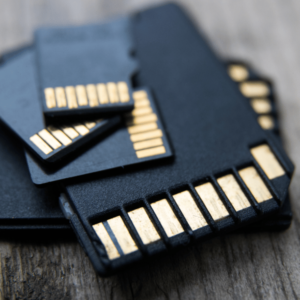 Telecommunications/ Networking
Avionics
Health Care
The Internet of Things (IoT)
Automotive Computing
Enterprise Mobility
Defense and Aerospace
Automation
Industrial/Embedded PC
Critical Importance of Industrial Applications
Generally, industrial applications are not only mission critical, but are also life and safety critical. As more and more industrial systems require little to no human intervention and become autonomous, the timely access and the efficiency of data storage, delivery, and breakdown of information have never been more vital.
Since the industrial requirements are immensely different from personal use, customers in the industrial sector don't really factor in the immediate short-term costs. Rather, they base their buying decisions on the total cost of a solution.
When considering an industrial micro SD card, keep in mind the extensive range of usage scenarios and the diversity of industries. Consider how the memory card will be used and for which specific applications.
As a value-added service, Accelerated Memory Production Inc. offers customization options to better address your requirements for specific applications and markets, like joint validation with client-supplied host systems and devices, and pre-loading customer-consigned data.
Providing Endurance & Reliability With The Flexibility of Portable Media
Accelerated Memory Production Inc.'s commercial and industrial micro SD cards deliver superior dependability, endurance, longevity, and extended temperature range for industrial applications across a wide range of applications, including network equipment, servers, gateways, home surveillance, action cameras, and drones.
Built and tested to function optimally in the harshest environmental conditions, our industrial micro SD cards feature a powerful suite of features. These include host lock to enable data privacy, automatic read refresh for data integrity, and health status monitoring for preventative maintenance. Rapid Write/Read performance allows for high bit rate video streams for industrial IoT, surveillance, and several other commercial imaging applications.
Receive Quality Micro SD Cards From Accelerated Memory Production Inc.
AMP Inc. is fully capable of customizing software, hardware, firmware, and security policies. To learn more about our micro SD cards and other secure flash storage products, feel free to browse our online store. If you have any questions or concerns, give us a call at 714-460-9800 or contact us online.