JEDEC
The Joint Electron Devices Engineering Council (JEDEC) was formed in 1958 as a part of the Electronic Industries Association (EIA). In 1999, JEDEC was incorporated as an independent association under the name, The JEDEC Solid State Technology Association (thereby abandoning any reference to the original acronym). This new organization then became a recognized sector of the Electronic Industries Alliance (EIA), and maintains that relationship today.
JEDEC is the leading developer of standards for the solid-state industry. Almost 3,300 participants, appointed by some 300 companies work together in 50 JEDEC committees to meet the needs of every segment of the industry, manufacturers and consumers alike. The publications and standards that they generate are accepted throughout the world.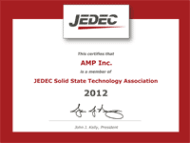 Alliances
Solid State Storage Technology is one of the hottest areas of technical development in the industry, that's why we are proud of our strong partnership with Sandforce. Combining amp inc's innovating products and Sandforce Technology has lead us to reach cutting edge products.
Affiliations
Accelerated Memory and Storage Solutions is proud to be a life long member of associations that have shaped our industry. We continue to be a dynamic member of these associations and continue to contribute to their development which helps support us and our customers for future products and technologies.